Meet Jermiah, our Play Facilitator here at Children's Museum of Atlanta.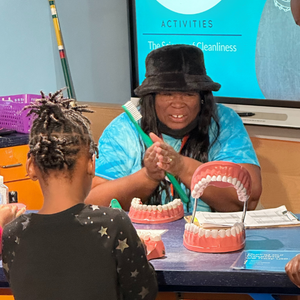 Jermiah was born and raised in New York City and called it her home for the first 29 years of her life. After, her last year of undergrad at the State University of New York at New Paltz, she decided she wanted to be a teacher. But, with living in the big city and an eagerness to join the working world, her first job was in fashion. Starting her fashion career on 7th avenue as an Administrative Assistant she made friends from all over the world including places like Thailand and Tawain!
After working in the fashion district Jermiah knew it was time to start her teaching career. With help from a friend, she began teaching as a substitute in the South Bronx. At this period in her life, she realized where ever there were children, that is where she wanted to be.
Looking for a new start and wanting to be closer to her mother, Jermiah moved to Atlanta with her husband in the late 90s and started teaching again in Atlanta Public Schools. For the next 10 years, she went on to teach 4th graders and worked in the Library Media Center inspiring children to always do their best and chase their dreams.
"I loved working with children! You show kids kindness and love and they respond to it. We had a lot of fun!"
When Jermiah found out the Museum was hiring she was ecstatic and considered herself lucky to work at the Museum. She even would come to the Museum with her own children! "When I use to come here I was amazed. Everyone was always so happy, really great educators, they made it fun for the children, and I was like 'I get to be a part of that?'."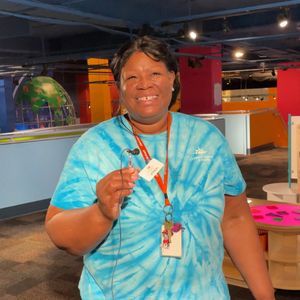 As a Play Facilitator, Jermiah supports the Museum in engaging with families and making their visit magical and fun. From the Science Bar, Stage, and Jane's Innovation Station, she ensures that every child learns through the power of play!
JERMIAH'S FAVORITES:
Favorite thing about CMA: "We empower children that there's no right or wrong answer. Your discovery process is the right way. This is a safe space to be a child!"
Favorite exhibit: "It's hard to pick just one. I'll have to say Leaping Into Learning and Fundamentally Food!"
Favorite interaction with a kid: "On the CMA stage I was asking children what they wanted to be when they grow up and then this child took the mic and started singing This Girl Is On Fire. Then, I asked another child what they would like to be when they grow up. The child sang This Girl Is On Fire too. The CMA stage was packed with a crowd, everyone was cheering, and it was so fun!"