Health & Wellness Fridays: Nature Walk Scavenger Hunt
We're going to go on a nature walk scavenger hunt! For our scavenger hunt, we're going to focus on hunting down items that can be found in nature.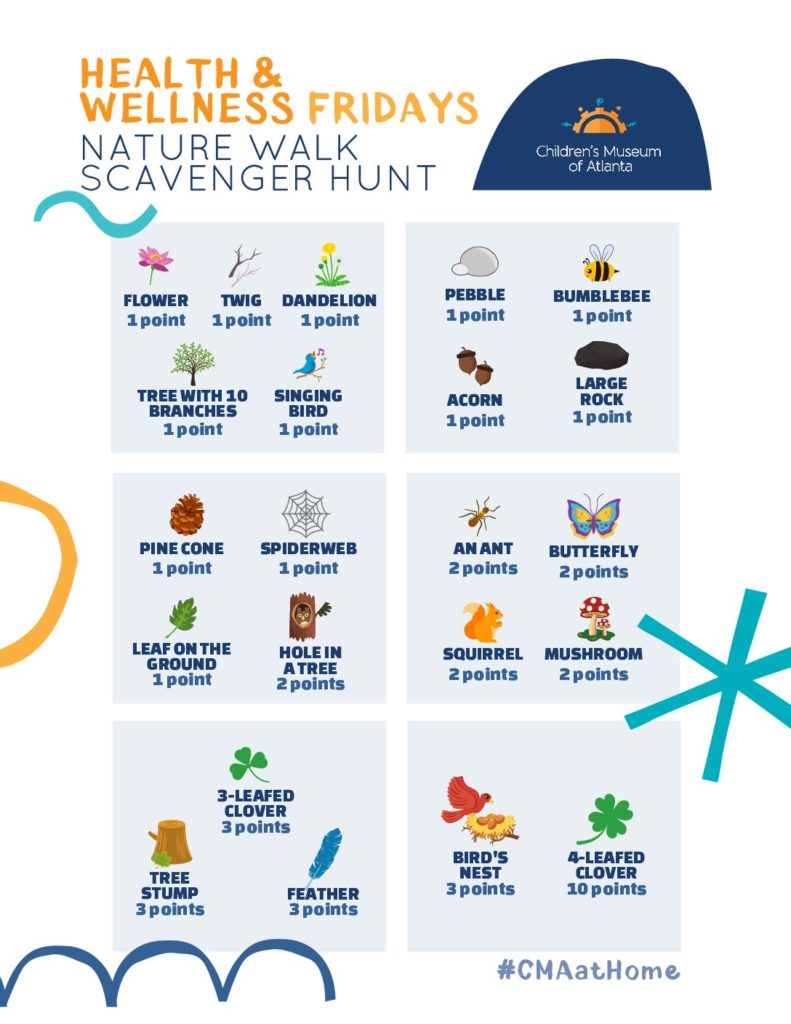 Scavenger hunts are great ways to keep our minds sharp, kind of like detective work. When we combine a scavenger hunt with a nature walk, we're keeping our minds sharp and our bodies healthy. Walking helps your heart, muscles, and bones stay strong, and it's a good way for your body to get lots of vitamin D from sunshine. Nature walks help us enjoy the beauty all around us, which is especially appropriate as we celebrate Earth Week and feel thankful for our planet!
STEP 1: Take the list above with you and go for a walk outside with your family.
STEP 2: Circle everything you find.
STEP 3: Add up your points. How many points did you get?
STEP 4: Try again another day. Can you beat your score? Can you create your own scavenger hunt list and points?
Total points available: 44
If you want to learn even more about nature walks and how to appreciate the beauty around you, take a nature walk with Ms. Lydia!
Vocab Words
Scavenge: To search for something. A scavenger is someone who searches for things, especially things that other people might not notice or appreciate.
Litter: Trash that is left lying around. You might notice some litter on your scavenger hunt; remember that we want to keep the Earth as clean and beautiful as possible, so always wait until you find a trash can or recycling bin before getting rid of your waste!
Appreciate: To see the value of something and to feel thankful for it. As you take your walk, try to appreciate the nature around you – see how valuable it is and feel thankful for it!