Today, we are celebrating Asian Pacific American Heritage Month by learning about Dong Kingman, a Chinese-American watercolor artist, and exploring the symbolism of the Chinese dragon featured in some of his works.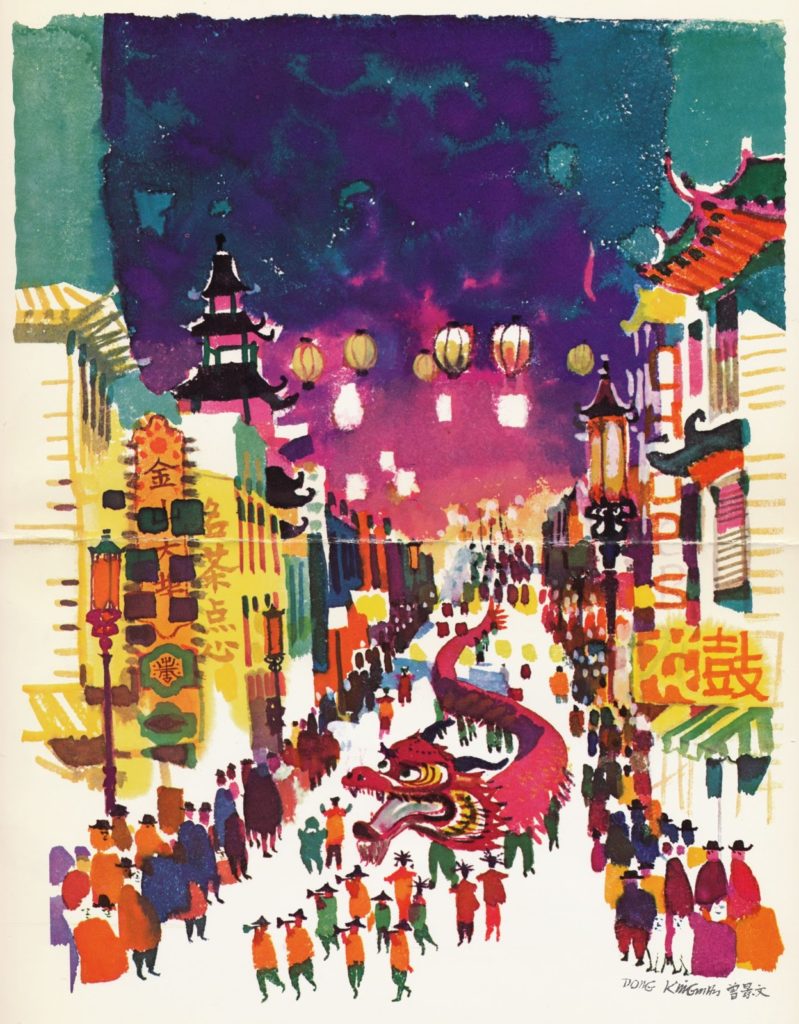 Dong Kingman was born Dong Moy Shu in California in 1911 to parents who had immigrated from Hong Kong. When he was still a child, he returned to Hong Kong with his parents and entered school. In keeping with Chinese school custom, he was given a school name while there: King, which means scenery in Cantonese, and Man, which means composition. He later combined those words into the name Kingman.

Kingman is most known for his cityscape paintings of cities all around the world. In some of these paintings, he includes beautiful scenes of the Chinese dragon dance. The dragon dance is a traditional Chinese dance where performers use poles to make a large dragon prop dance down the street. It is performed during Lunar New Year as well as during other celebrations.

The dragon represents wisdom, strength, power, and good luck. When the dragon dance is performed, it is a way to bring blessings and good luck to the community. Today, we're going to create our own dragon prop using paper.
Materials & Instructions
Red and yellow paper (or white paper and red and yellow markers, crayons, or colored pencils)
Scissors
A pencil
Tape or a stapler
STEP 1. If you are using white paper, go ahead and color one or two sheets yellow and one or two sheets red. Next, use your scissors to cut strips out of the yellow and red paper. You can cut down the short side of the paper for smaller links, or down the long side for larger links.
STEP 2. Staple your strips together into a paper chain creating a red-yellow-red-yellow pattern. Your chain can be as long or as short as you want it to be. This will be the dragon's body.
STEP 3. Draw the side of a dragon head and the side of a dragon tail on another piece of paper. Decorate both as you like; cut them out and use those cut-outs to trace an identical head and tail on another piece of paper. Cut out your second set and decorate as you like.
STEP 4. Tape or staple a dragon head cut out to either side of your front paper link, then tape or staple them together in the front as shown.
STEP 5. Repeat this step using your dragon tail cut-outs on the very last paper link. You now have a dragon!
Vocab Words
Watercolor: Watercolor is a type of painting where the paint is made by putting pigments, or colors, in water.
Scenery: Things that you see outside, especially things that are pretty or unusual. Trees and flowers could be considered scenery.
Composition: A work of music, art, or literature; the act of putting something together.
Cityscape: The way a city or urban area looks, like the Atlanta skyline; a city landscape.