Meet Ian, a Guest Experience Guide here at the Children's Museum of Atlanta.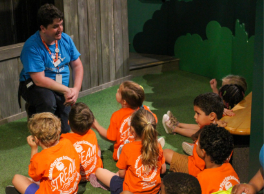 Ian was born in Atlanta, but raised in St. Louis, Missouri. He received his bachelor's degree in theater and writing from Drury University in Springfield, Missouri.
Ian's first job was at a community theatre, where he worked as a theatre technician. Although he thought the job would fit into the path his education prepared him for, he realized it wasn't the right job for him. So, he began working as an educational interpreter at the St. Louis Zoo, hoping to bring in some acting expertise while interacting with guests. "That was the first time that I really got to work with kids almost exclusively," he said, beginning to understand his love of working with children.
After two years at the Zoo, Ian joined a touring company called "Poetry Alive," and traveled the country performing poems at various schools. He then moved to New York to continue his career in theatre, performing in a number of plays, including an off-Broadway production of Shakespeare's "Richard III." However, a few years in New York was enough for him, and he was ready to move back down to the South.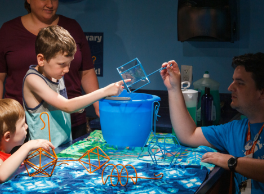 Since Ian found so much joy working with children in his previous jobs, he knew he wanted to continue down that path. He began working at CMA in February and finally feels like he found the right place for him. Getting to use his education while working is important to Ian as well. "Both theater and writing center around storytelling. So much of what we do is presenting what we are teaching the children in a story format," he said. "We have to present it in a way that will keep their attention."
As a Guest Experience Guide, Ian leads field trips and engages Museum programming in exhibits, but most importantly, he helps to make the Museum a fun and safe environment for children.
"It's always important to have places where kids can go to just be kids," he said.
IAN'S FAVORITES:
Favorite thing about CMA: "We encourage children's interaction with their parents, which is what they really want. It's really great to see the kids sharing an experience or discovery with their parents."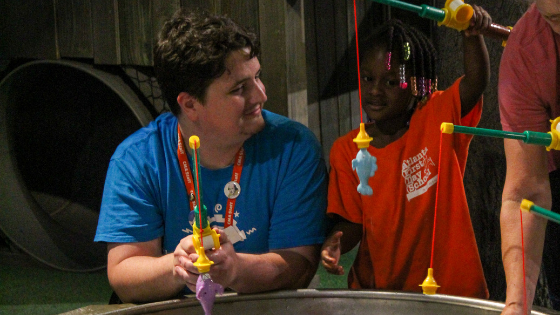 Favorite exhibit: "Leaping into Learning. It's fun just to sit down and fish with the kids. Plus, at the St. Louis Zoo, I worked a lot with the stingrays and sharks so I get to talk to the kids about it."
Favorite interaction with a kid: "One kid told me he was born on Mars and surfed down waterfalls. Definitely the funniest thing I've ever heard."