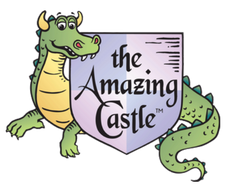 June 9, 2018 - Sep 9, 2018
The Amazing Castle™
The Amazing Castle™ will transport our guests to a magical place and time—inside the castle's stone walls lays a happy and peaceful little community where every citizen has a special job to do. Children can don costumes and engage in role-playing, pick vegetables in the garden, take them to the Great Hall to cook up a royal meal or visit the tower to wake "Herald," the sleeping dragon!
Let the fantasy begin! Visitors can begin their adventure by reading the story of The Amazing Castle, which introduces the castle citizens and depicts the interconnectedness of those living in the castle.
A fortress sure to be enjoyed by our youngest royals. Toddlers can create a miniature, magical community in a castle-inspired dollhouse, build their own fortress out of "stone" blocks and play with a castle busy wall.
The Great Hall & Garden
+
Friends and family can take a seat at the royal table while children prepare a wonderful, magical meal with "Kipper the Cook." They can put on an apron and select ingredients or they can put on a garden smock and join "Posey the Gardener" in the royal garden. Bon appetit!
Children and adults will become castle entertainers when they visit "HiJinx the Jester" in the Royal Puppet Theatre.
Guests can visit the Tailor Shop where children and adults can try their hand at repairing and making clothing, the Carpenter's Shop, grabbing a work apron, and helping "Gable the Carpenter", or the Blacksmith Shop where children can join "Synge the Blacksmith" and pretend to repair iron tools.
The Dragon Tower is home to "Herald the Dragon," who announces important information to the citizens of The Amazing Castle.
Sponsors
We're so thankful to our generous sponsors, who help make visiting exhibits like this one possible. We are thankful for the ability to be able to bring new and exciting exhibits to the community of Atlanta.