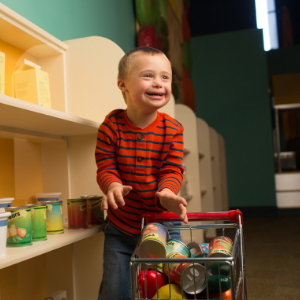 On average, children with disabilities make up 10 percent of a public school system's total student population, but field trip curriculum is often lacking for these students. That's where we want to make a difference. The Museum encourages multi-sensory, tactile and experiential learning for all children through its programming and social and emotional development exhibits, but after conversations with organizations including Atlanta Public Schools, Fulton County Schools and the Marcus Autism Center, the Museum is ready to take its inclusive field trip and outreach programming to the next level.
Partnering with Atlanta Public Schools, Fulton County Schools, the Piedmont School and Georgia Institute of Technology's EXCEL program, the Museum began a three year pilot program in January called A Museum for All. The pilot program is sponsored by NCR, 3M, and The Rich Foundation, and the goal of this project is to design effective and impactful field trip and community outreach curriculum for students with disabilities that aligns with audience needs and state standards.
Before beginning A Museum For All field trips, Dr. Rachel McCann, the autism coordinator for Fulton County Schools, trained the Museum staff and informed them of the best ways to support students with special needs. After training was complete, the Museum began welcoming classrooms into its doors. Since January, the Museum has hosted seven field trips and is currently in the project evaluation phase, which includes interviews with school teachers and Museum staff, focus groups and reconfiguration of programming.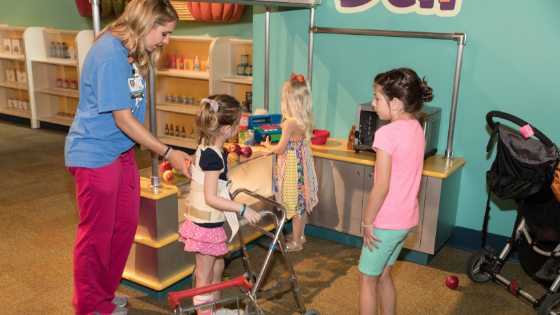 Once the project evaluation phase is complete, the Museum will move on to the next phase, which will include updated training for staff, updated communication materials and updated field trip programming and curriculum. This phase is set to begin in late July/early August, and a second set of pilot field trips will commence in the fall.
Carrie Bruce, PhD, CCC-SLP, senior research scientist at Georgia Tech, research director for the MS-HCI program at Georgia Tech and A Museum For All committee member, has been working with the Museum to increase accessibility for seven years and views children's museums as a necessary component in community connection and inclusion.
"For me, because I'm also a mom of a young kiddo that has down syndrome, it's her getting to go to a place with other kids," Bruce said. "The [kids] get to see diversity and interact, and inclusion benefits both sides. Really what we see is that if we build a place that's inclusive enough for all kids, it's just better access for everyone."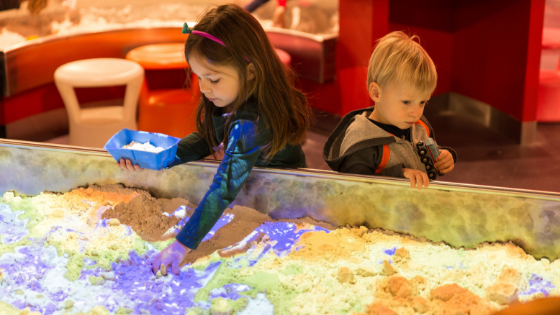 Along with compelling programming and curriculum, the Museum seeks to create meaningful experiences for the entire family of children with disabilities. "Being able to include more kids in the museum experience, fostering that perspective of philosophy in a community is a good thing," Bruce explained. "Hopefully it reaches the various sponsors and donors and people who come in and value and support the Museum in various ways."
As the pilot program continues, the Museum hopes to roll out A Museum For All to other school systems in the Atlanta area, and, in partnership with college students with disabilities at Georgia Tech, produce an exhibition update design plan that would address universal access in all Museum exhibits.