We're celebrating Hispanic Heritage Month with a special reading of Imagine by Juan Felipe Herrera for October's Tiny Club!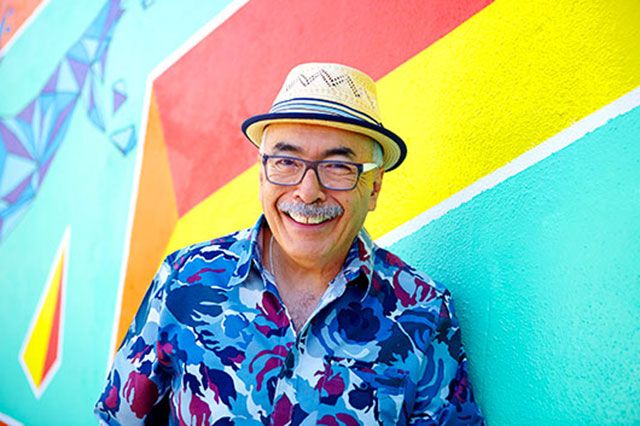 Juan Felipe Herrera is a poet, author, and teacher. He was the 21st U.S. Poet Laureate, and the first Latino U.S. Poet Laureate. A poet laureate is the chosen poet of a country!
Juan Felipe Herrera grew to love poetry as a child when his mother used to sing songs to him about the Mexican Revolution. He has now written many poetry collections and has won many awards for his work. You can read his poems "Let Me Tell You What a Poem Brings" and "[Let Us Gather in a Flourishing Way]" on the Poetry Foundation website.
Imagine is an autobiographical story. That means that Juan Felipe Herrera wrote it about his own life. Imagine is also a poem that has been put into a book form and illustrated by Caldecott-winner Lauren Castillo. Enjoy the story, then walk through the vocabulary words and discussion questions with your child.
Vocabulary Words:
Poem: A piece of writing that is very beautiful and may use rhythm or metaphors.
Poet: A person who writes poetry.
Poet Laureate: The chosen poet of a country.
Chamomile: A type of plant that has yellow and white flowers.
Amigitos: Little friends in Spanish.
Mesa: Table in Spanish.
Familia: Family in Spanish.
Discussion Questions:
1. In the story, Herrera moves to a new city and a new school. Have you ever been somewhere new? Where did you go?
2. How did it feel to be in that new place around new people? Was it scary? What did you do?
3. Have you ever learned a new language or a word in a new language?
4. Imagine what you can do! Juan Felipe Herrera read his poem for his inaugural (first) reading as U.S. Poet Laureate. What amazing things will you do one day?
Join us next week for an activity related to Imagine! You can also listen to a reading of the book by Herrera himself.