It's Groundhog's Day! Today, we rely on the OG meteorologist, a groundhog, also known as a woodchuck, to tell us if there will be 6 more weeks of winter or if spring will arrive early. This rodent, which belongs to the large ground squirrel group known as marmots, has become quite the North American sensation since the tradition began in the early 1800s as a part of the Germanic festival called Candlemas.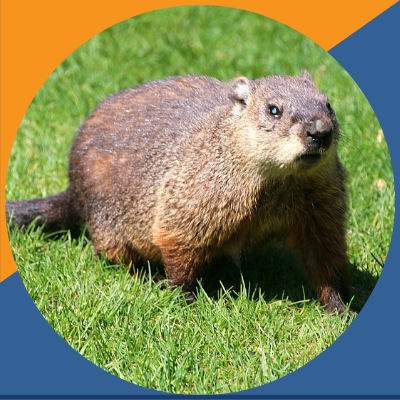 Punxsutawney Phil is probably the most well-known groundhog in the country. Pennsylvanians drummed up the now-famous tradition in 1886 and the rest, as they say, is history. Today, many other cities have their own groundhog with the enormous responsibility of predicting the weather. Raleigh, NC has good ole Sir Walter Wally, West Virginia has French Creek Freddie, Tennessee has Chattanooga Chuck, Louisiana relies on a "swamp rat" or nutria named Pierre C. Shadeaux, and our own groundhog here in Georgia is named General Beauregard Lee. Fun fact about Beaux: Georgia State University named him a Doctor of Southern Groundology.
But which groundhog is the most reliable? And why do we carry on this silly tradition?
Well, according to Garden & Gun, Chattanooga Chuck has an 87.5% accuracy rate! That's huge for the team at the Chattanooga Zoo. Punxatawney Phil has come in at 40% accurate over the last 10 years and probably needs to work on his predictions. And Georgia's Beaux is looking at a 60% accuracy rate.
Traditions, like Groundhog's Day, stick with us over time because they create stability, instill a sense of comfort and reinforce values. Something silly, like looking to a ground squirrel for a weather prediction, is also a fun opportunity to come together, recognize the changing seasons with our community and prepare for a new Spring.
So whether we're putting marmots in the limelight to mark the changing seasons or sharing cards and sweets with our loved ones for Valentine's Day, our traditions and holidays can help us remember there are always moments, days, weeks and months to come together and lift up what is truly important.
(Speaking of Valentine's Day, this year we're reading Pete the Cat: Valentine's Day is Cool by James Dean and crafting colorful cards for our friends, family, and even ourselves! Join us as we learn how to encourage and uplift those around us during this fun holiday.)