NoRILLA: AI Gorilla Brings STEM to Life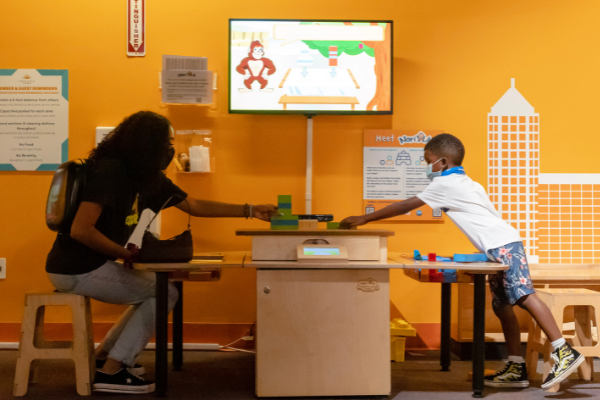 There's something new rumbling and tumbling at CMA! If you've visited the museum lately you've seen children building towers and other structures out of blocks. That's pretty common – we're big block fans! But the friendly animated gorilla sharing challenges and feedback certainly adds a twist. And things get really fun when the foundation below the blocks begins to shake!
Can their structure withstand the earthquake? When kids observe and analyze the outcome and use this new information to shape how they rebuild they're putting scientific thinking to work (and play)! That's the magic of play with NoRILLA. A mixed-reality system, NoRILLA uses real-life blocks, a friendly on-screen gorilla, and earthquake simulation to improve kid's inquiry-based STEM learning, critical thinking, and persistence.
NoRILLA is part of our recent Step Up To Science exhibit renovation. The renovation's first of three phases focus on the cause and effect relationships between force and motion. As kids take on different building challenges, test their creations, and rebuild based on their observations and on-screen feedback they explore a myriad of these relationships. Ultimately this play improves learning without sacrificing fun!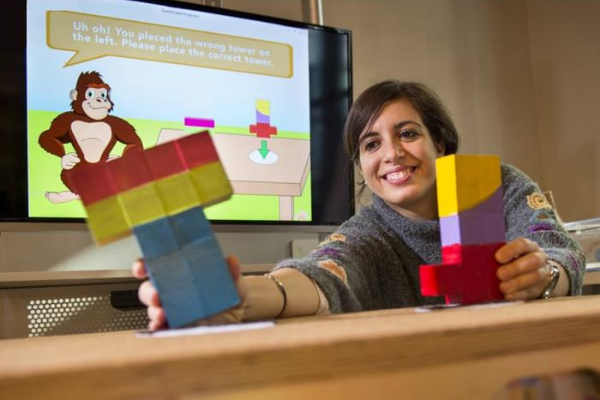 NoRILLA was created by Dr. Nesra Yannier together with her Ph.D. advisors Prof. Ken Koedinger and Prof. Scott Hudson at Carnegie Mellon University. Dr. Yannier has a passion for using technology to nurture kids' natural curiosity and help them exercise their scientific thinking skills. Dr. Yannier is currently a Special Faculty in the Human-Computer Interaction Institute at Carnegie Mellon University. We sat down with Dr. Yannier to chat about the inspiration behind NoRILLA, how the system improves STEM learning outcomes in kids, the proven learning methods behind the technology and more.
CMA: NoRILLA is an innovative way for kids and families to learn through play! Where did the idea for this exhibit come from?
Dr. Yannier: Growing up in Turkey where the education system was based mainly on memorization, I always thought that learning should be different – helping children understand the reasons why rather than memorizing facts. When I came to the US I realized that the problem was even bigger and more universal than I had thought. According to The National Center for STEM Elementary Education, even though children are curious by nature, 1/3 of them have lost interest in science by 4th grade – mostly due to the way they're being taught in early education.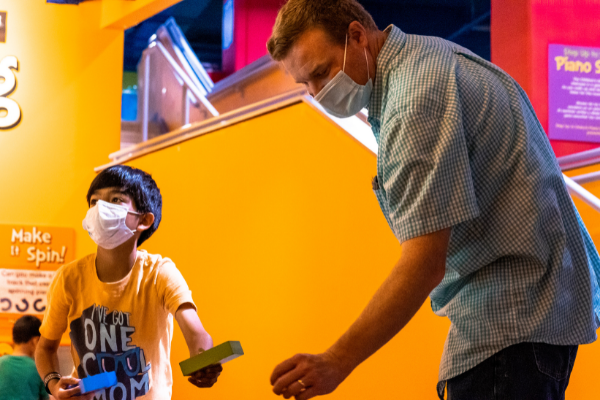 I also observed that even though there are a lot of technologies out there, most of these technologies are making kids more socially isolated from their physical environment. I wanted to find a way to bring together the advantages of physical hands-on experimentation with interactive feedback and guidance so that children can learn collaboratively without being isolated from their physical environment while also taking advantage of the learning benefits of advanced technology. We created NoRILLA to address these issues and make STEM learning more fun and engaging for kids!
"Our early research has shown that having this mixed-reality platform improves children's learning by 5 times compared to equivalent tablet or computer games that are only on a screen, while also improving their enjoyment."
CMA: We love our NoRILLA and we were especially excited to learn that it improves learning by 5 times. Can you explain what that means and why that is?
Dr. Yannier: Our early research has shown that having this mixed-reality platform improves children's learning by 5 times compared to equivalent tablet or computer games that are only on a screen, while also improving their enjoyment. The platform is mixed-reality because it combines hands-on experimentation with Artificial Intelligence (AI) guidance. We measure learning outcomes by doing pre and post tests. These tests show that kid's predictions and scientific explanations improve and so do their building and engineering skills.
Our research has also shown that adding an intelligent guided inquiry layer on top of physical experimentation (this is the gorilla and on-screen feedback!) improves children's learning and engagement compared to equivalent museum exhibits that have physical exploration alone. Children spend more time at exhibits with this feature since it keeps their attention longer. As a result, kids understand the underlying scientific principles much better and can apply them better to real-world building/problem-solving tasks after interacting with Intelligent Science Exhibits like NoRILLA.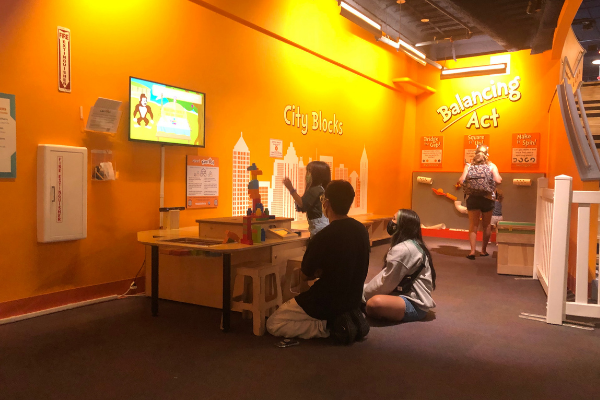 CMA: We were also enthusiastic about bringing a new science exhibit into the museum that was based on science itself. Can you explain the science behind NoRILLA?
Dr. Yannier: Yes, the system is based on years of scientifically proven research at Carnegie Mellon University. We utilize proven learning techniques and methods such as contrasting cases (where children can try to pick up on the difference between two objects – e.g. they make a prediction about which of the two towers will fall first – with the only difference being that one of the towers has a wider base then the other) or self-explanation menus where they get to explain the reasons behind physical phenomena (e.g. why one of the towers fell first – was it because it was not symmetrical or was it taller or had more weight on top). These methods help enhance critical/scientific thinking and problem-solving skills for children where they learn to isolate variables, make predictions and observe/explain the results, all with interactive feedback from a gorilla character that guides them as they make discoveries in their physical environment.
CMA: How can grown-ups help kids get the most out of their NoRILLA time?
Dr. Yannier: Grown-ups can have scientific conversations with children as they interact with NoRILLA. "What do you think will happen? Why do you think this happened?" Helping them understand the reasons as they perform experiments and then apply what they learned as they build structures with the given challenges.
Another advantage of NoRILLA is that even if the grown-ups don't have a science background, the interactive, personalized, adaptive feedback NoRILLA provides (with its patented and proven technology) guides the children together with the families to give them a better learning experience.
"NoRILLA focuses on physical experimentation and building, rather than interacting with a screen only as in most other screen-based technologies."
CMA: We see that grown-ups are increasingly (and understandably) concerned by the amount of screen time in kids' lives. How is this screen experience different from others?
Dr. Yannier: We designed NoRILLA Intelligent Science Exhibits very carefully so that the physical experimentation is in the forefront, and the interactive layer and the gorilla character is in the background guiding and helping the learners get the most out of their experience with the exhibit. It encourages collaboration, critical thinking and persistence skills which are all very important in the 21st century. NoRILLA's focuses on physical experimentation and building, rather than interacting with a screen only as in most other screen-based technologies. It is also built on proven learning mechanisms and methods, unlike many other technologies.
CMA: We were thrilled to host your research team at CMA. What were you and your team up to?
Dr. Yannier: With our current research through the National Science Foundation, we are looking into making Intelligent Science Exhibits more adaptive – adapting to children's backgrounds and abilities as well as to different contexts and content areas. We are also looking to see how Intelligent Science Exhibits can help facilitate conversations between families and children.
CMA: Is there anything else you'd like to add?
Dr. Yannier: We are very excited to work with The Children's Museum of Atlanta! We love the mission of CMA and the diversity of children and families it reaches. We hope that everyone enjoys interacting with NoRILLA and that through our partnership we can help make science learning more fun and effective for kids!
CMA: Thank you, Dr. Yannier! We appreciate you sharing with us and we are especially thankful for all of the experimenting and research that went into bringing this fantastic exhibit to life!
You can play with the NoRILLA at CMA! Check out our program schedule and make your plans for a perfect day filled with exploration, curiosity and learning!