Meet Michael, our resident Play Ambassador here at Children's Museum of Atlanta.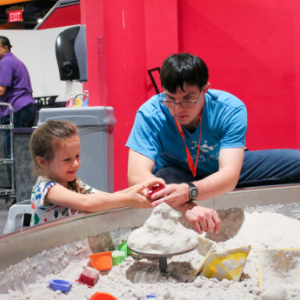 Michael was born and raised in Georgia, and he has called it home for 29 years. Although he moved to North Carolina for college, he made his way back to Atlanta with a passion for inspiring young minds and imaginations.
Michael graduated from Western Carolina in 2014 where he studied early childhood education. He worked at a daycare after graduating and began working at the Museum in 2016.

"Since I studied early childhood education, this is definitely the best place for me to have a career," Michael said of the Museum. "It definitely helps me to understand what kids are going through when they want to interact or play."
While Michael views school as an important time for learning, he believes the Museum is a helpful addition to standard learning facilities. "Play is part of education because it helps [kids] remember what life is, like learning how to fish or cook," he said. "To me, it reminds them what they will do when they grow up and that will help them to succeed in the future."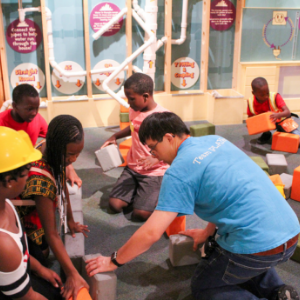 So, you may be wondering, "How can my kids learn to fish or cook in the Museum?" Well, our exhibits allow imaginations to run wild in a farm, grocery store and diner, teaching kids about the farm to table process and eating healthy. And if you want to take your kids fishing, look no further than our Leaping into Learning exhibit, where kids ages five and younger can enjoy a water interactive and magical forest.

"I feel like the exhibits really make the fun," Michael said. "Exhibits are helping the kids by learning about food, learning hand-eye coordination and stuff like that. That's what makes the Museum unique."
As a Play Ambassador, Michael supports Guest Experience Guides in the exhibits and engages with guests throughout the exhibits on the Museum floor. From learning about healthy lifestyles to experiencing new technology at the Science Bar, Michael looks forward to interacting with guests and assisting in their educational journey through imagination and play.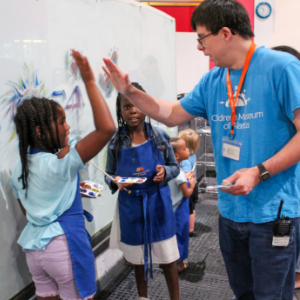 MICHAEL'S FAVORITES:
Favorite thing about CMA: "Seeing people being positive. I like when people work together. Since I'm on the floor, I work with kids and parents, and I can see the combination of hard work and coming together with a positive attitude."
Favorite exhibit: "The cafe because it's food! You can think of stuff like what you want for breakfast, lunch or dinner, and you can make your own recipes."
Favorite interaction with a kid: "Making them feel like they are in a safe community. And I also try to bring hope for them – just hope and love."