The holidays are drawing near but never fear! Children's Museum of Atlanta has the perfect gift for every child on your holiday list. From small sensory toys perfect for stuffing stockings to larger science kits and kitchen toys excellent for exploration and pretend play, you'll find everything you need this holiday season at CMA! If you're looking to gift experiences to the kids on your list, a CMA membership and a year of learning through play might be just what you're looking for.
You don't need to purchase admission to the Museum to shop in the Museum store. We're continuously stocking our shelves with new toys, books, and Museum merch. Below you'll find some of our top holiday gift ideas – but there's even more to discover in the store! We're here to help you make the holidays magical for the children in your life. We hope to see you soon for a day of play or a holiday shopping spree. 'Tis the season!
For the Young Chef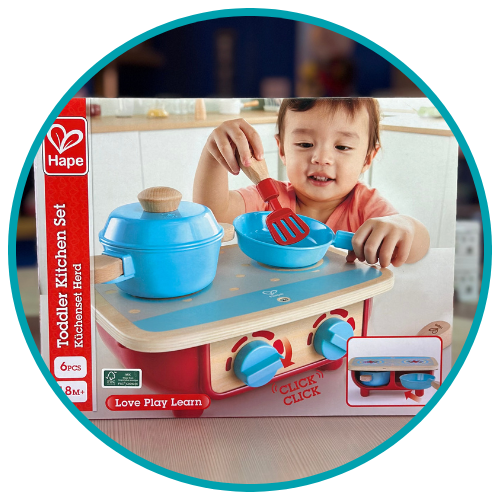 Toddler Kitchen Set
Entertain kids' imagination as they cook and serve play food with this pretend play kitchen stove top. This realistic wooden play kitchen encourages kids' motor skills, role playing, and creativity. The play set by Hape includes a stove top, metal frying pan, metal cooking pot, metal spoon, and lid that fits both the pot and pan.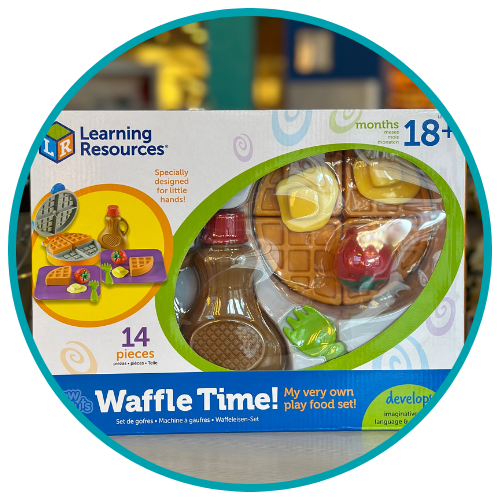 Waffle Breakfast Set
Rise and shine – it's waffle time! Little ones can cook and serve homemade waffles with this gourmet breakfast set. Waffle iron lid moves up and down to give kids a realistic experience of making their very own waffles. Butter, syrup and strawberries top off this tasty breakfast treat.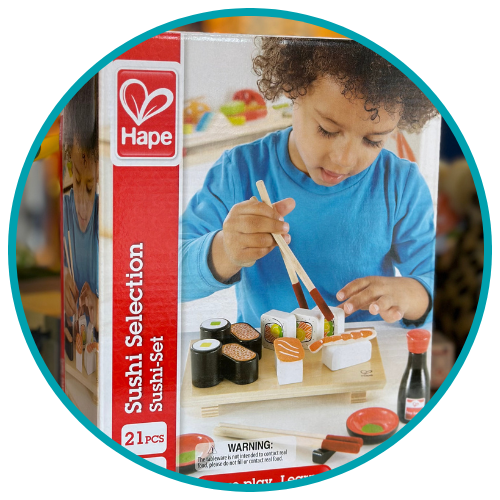 Sushi Set
Fresh sushi and two pairs of chopsticks are all you and your mini need for a delicious dinner. No cooking necessary! Hape's Sushi Selection is all the color, fun, and challenge of sushi without the wasabi kick. Mini sushi chefs can prepare, serve, and enjoy a sophisticated dinner with all the sushi staples: sushi, wasabi, soy sauce, chopsticks, and a realistic serving plate.
For the Artist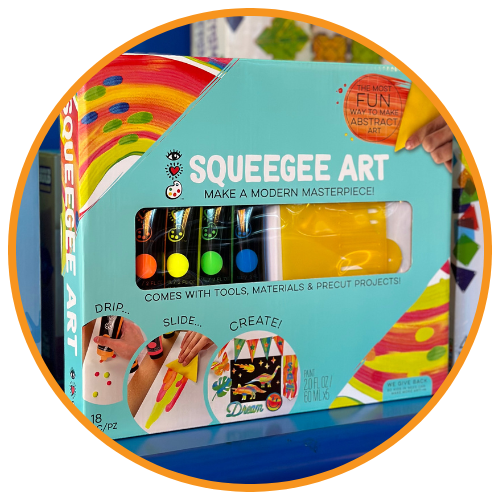 Squeegee Art Set
Drip, slide and create a modern masterpiece!  It's the most fun way to make abstract art.  The social media trend made easy for kids! Comes with 2 squeegees, 5 neon paints, thick paper, punch-out sheets, peel-away stickers and a large fold-out work surface.  There is no wrong way to squeegee.  Discover a new technique and open up a world of artistic possibilities.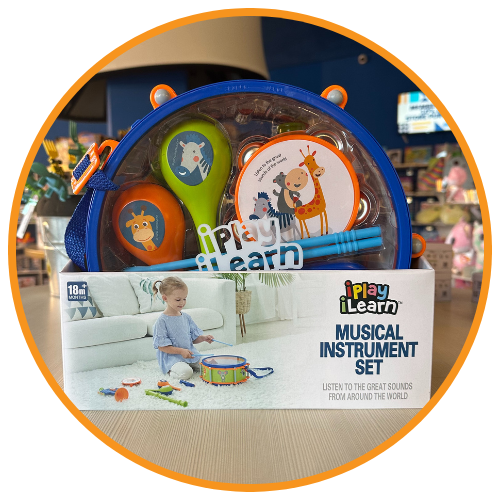 Musical Instrument Set
Bring music into your home and empower your young musical artist with choices! This toy helps children develop fine motor skills and hand-eye coordination as well as higher intelligence and greater emotional understanding. With a marching drum, maracas, tambourines, trumpet, flute and harmonica the musical possibilities are endless.
Arts and Crafts Library
With over 1,000 pieces to create your own craft adventure, it's the perfect cornerstone to any kid's craft stash. And, it all comes packaged in a reusable box to store your supplies when not in use. The only thing you need to add is your imagination!
For the Outdoor Explorer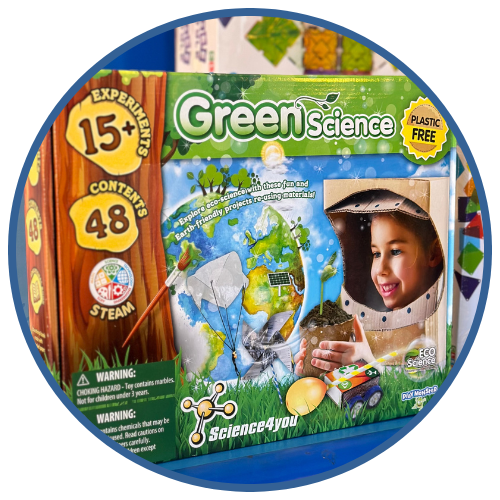 Green Science Kit
Be a true Earth-friend while making fun projects using old materials! Become a Green Scientist and learn about the environment and sustainability with this fun science kit.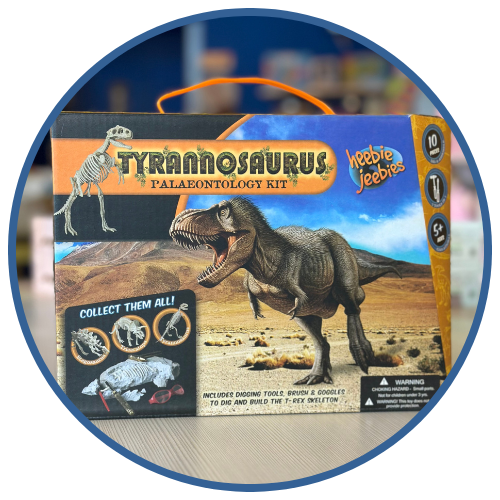 Paleontology Kit
Excavate and assemble your own miniature dinosaur skeleton. Perfect for the youngest paleontologist! Contains a Tyrannosaurus skeleton.
For the Little Littles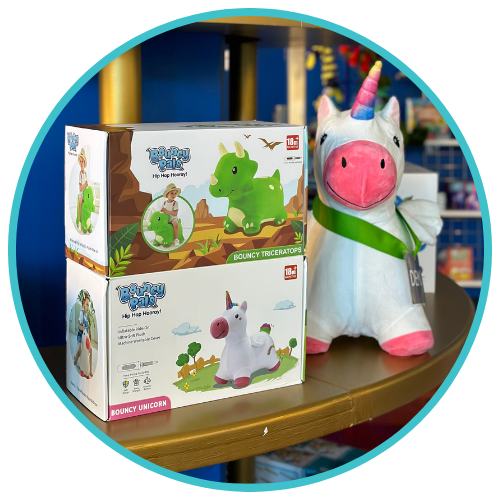 Bouncy Pals
This hopping unicorn is beautifully made with eye-catching features. Take one look, touch, and fall in love. The bouncy pal is a hopping good time that develops motor skills and full body balance through play.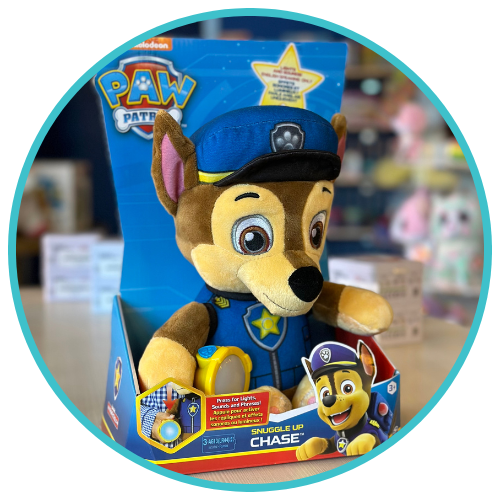 PAW Patrol Plushie
Snuggle Up Chase will be your child's favorite part of bedtime or playtime! Made of super soft materials, Chase is always ready for cuddles.
For the Scientist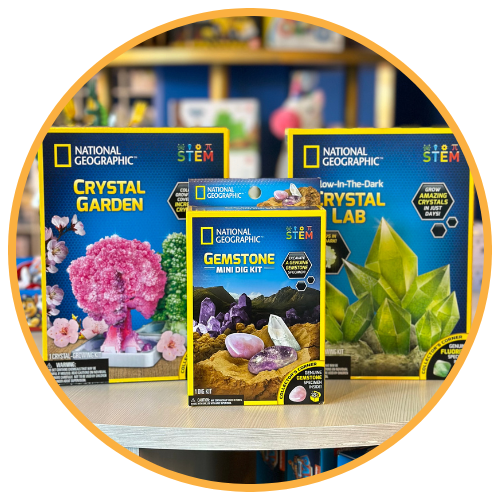 Crystal Garden and Lab Kits
Introduce your young scientist to geology with their very own crystal growing kit. The easy-to-use garden kit will show crystal growth as soon as 20 minutes after conducting the experiment! You also get a genuine rose quartz crystal, making this a truly comprehensive kit.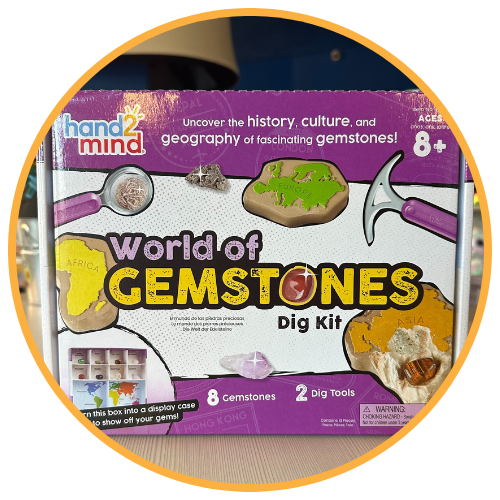 World of Gemstones Dig Kit
Discover the exciting world of gemstones with your young explorer! Dig up real gemstones and learn fun, relatable cultural facts about each country where the gemstones are found. When the kids are done, they can turn the package into a World Culture display box and teach others about how gemstones are used all around the world.
Books for all!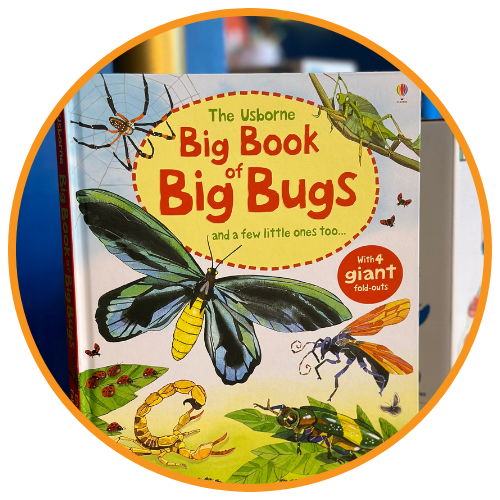 Big Book of Big Bugs
A skin-crawling introduction to the world's biggest bugs, from gigantic spiders as big as a dinner plate, to butterflies larger than dogs! Find out about the biggest swarms and colonies, the deadliest insects and the bugs with the best camouflage. Huge fold-out pages with life-size illustrations show children just how big the bugs really are.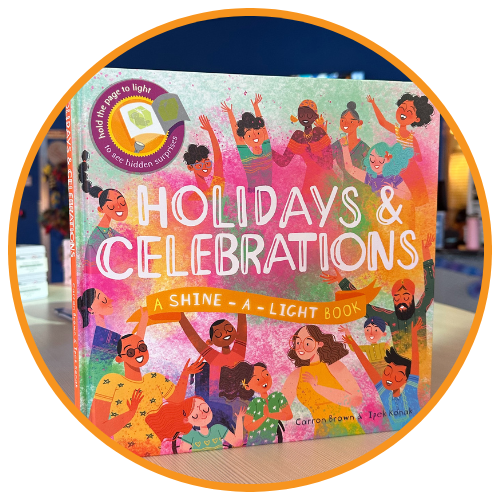 Holidays and Celebrations
This first introduction to the world's celebrations make for a party on every page! Includes the following holidays: Lunar New Year, Passover, Valentine's Day, Cherry Blossom Festival, Holi, Easter, St. Patrick's Day, Eid, Day of the Dead, 4th of July, Hanukkah, La Tomatina Festival, Christmas, Halloween, and Kwanzaa.