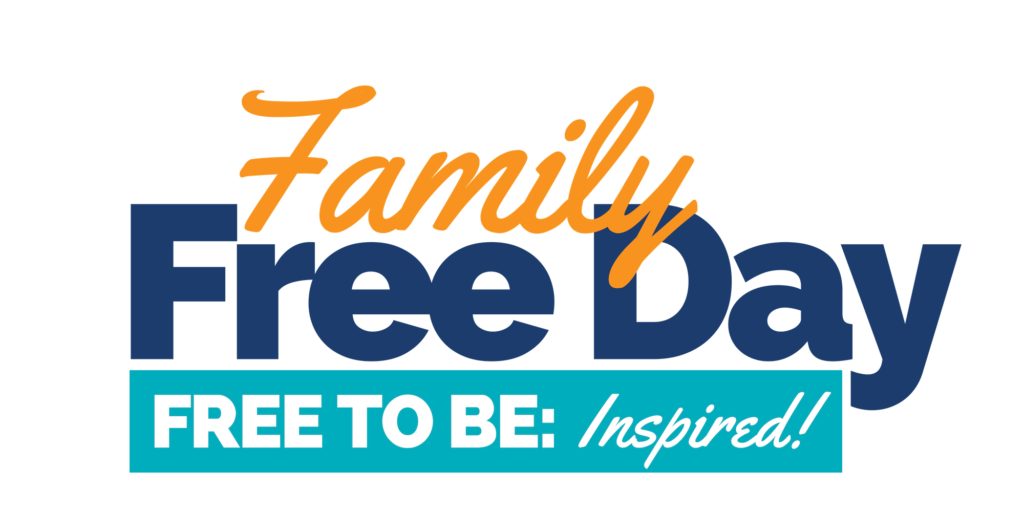 Presented by:
PNC Foundation & The Coca-Cola Foundation
Supported by: CareSource
Families are invited to enjoy an interactive day at Children's Museum of Atlanta free of charge. Thanks to the generous support of our sponsors, we will offer extended hours and free admission to families four times a year. In addition to exploring the Museum's featured exhibit, Family Free Day will also include a festival-like atmosphere celebrating innovation and creativity.
Postponed until 2021
Theme: TBD
Program Partners: TBD
HOW TO REGISTER: 
In order to guarantee entrance, families must pre-register online for Session 1, 2 or 3 of Family Free Day.
Families MAY NOT register for multiple sessions.
All guests will be asked to leave at the end of each Session in order to clean and re-set the Museum.
In order to allow as many families as possible to enjoy the Museum, guests may not book multiple sessions.
Please arrive on time to enjoy your Museum visit.
Members who wish to attend Family Free Day must pre-register online via the registration link.
FAMILY FREE DAY PRESENTING SPONSORS:
FAMILY FREE DAY SUPPORTED BY:
CLICK BELOW TO READ FAMILY FREE DAY FAQs
The Museum requires that you have at least one adult for every five children.
You must arrive within the first hour of your selected session. Your admission will not be guaranteed past that first hour.
Ticket holders will have access to vending machines inside the Museum, or if you prefer, you may bring your own bag lunch. Picnic tables on the Mezzanine Level are available on a first come basis.
Family Free Day is held four times a year. The Museum offers three sessions which require pre-registration.

Session 1: 10:00 AM - 12:30 PM
Session 2: 1:00 PM - 3:30 PM
Session 3: 4:00 PM - 6:30 PM
Capacity is the total number of people legally allowed in the building. This number varies with each traveling exhibit.
During Family Free Day, all visitors must pre-register online, this includes Museum members. Members who do not preregister for one of the sessions may be required to wait until capacity is available in the building.
Family Free Day is a special opportunity for the community to bring their children to Children's Museum of Atlanta and experience the Museum for free. Free admission is made possible through the generous support of PNC Bank and Coca-Cola and is also supported by CareSource.
You may leave and re-enter during your session. Your tickets are only valid during your selected session. Hand stamp required for re-entry.
Our exhibits are developed with children 8 years and younger in mind.

Registration is required to receive free tickets for Family Free Day. The registration link will be live 24 hours prior to the Family Free Day date. The link can also be found on our social media channels. Follow us to stay up to date!
Museum restrooms are only accessible to ticket holders admitted onto the Museum floor. Guests arriving prior to their scheduled session may use public restrooms located in the American Cancer Society Building (bridge level) and in between The Georgia Aquarium and The World of Coca-Cola.
Your family's safety and security are our highest priorities. Adults must be accompanied by a child on the exhibit floor, and children must be accompanied by an adult on the exhibit floor. Security cameras, electronic access controls, and security personnel are in place at all times. Guest Experience staff are always here to assist you. We require one adult for every five children. No security can take the place of adult supervision. Remember to have fun with and supervise your children.

The Museum offers three sessions during each Family Free Day. Each session allows 2 hours & 30 minutes of play time, assuming you arrive at the beginning of your scheduled session. Late arrivals will still be required to leave at the end of the session.
Tickets are only available with pre-registration. You can register on our website starting at 7 AM the day prior to the Family Free Day. You must register for one of the three sessions. Electronic tickets are emailed and must either be printed or visible on a smartphone.
If you arrive prior to your session time, you will be asked to wait outside until your session begins. Line forms outside the museum regardless of weather conditions. Restrooms are not accessible while waiting in line.
Disclaimer: Registration is required in order to gain admission. Families will be able to secure up to 6 tickets upon registration. We cannot guarantee space into the Museum if registration is missed. Museum requires 1 adult for every 5 children.