Wild Kratts®: Creature Power®!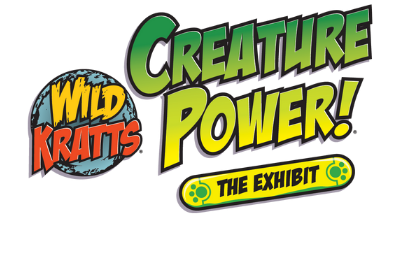 June 11, 2022- September 5, 2022
Step into the world of Wild Kratts® to explore the secret lives of amazing creatures in this brand-new exhibit. Immerse yourself in animal habitats from around the globe, discover incredible creature powers, and go on a mission to foil the villains' nefarious plans!
Step into Wild Kratts HQ, don a creature power vest and begin your creature adventure. Research wildlife while piloting the iconic vessel across the African savanna. Test and modify the cheetah racer to reach top speed.
Australian Outback Desert
+
Camp in the desert while exploring a riverbed and hunting for lunch like a platypus. Explore the eucalyptus grove and termite mound. Test your hops against a kangaroo and discover how the creatures who live here are uniquely adapted to this extreme environment.
Explore a lush tropical rainforest. Pick a quiet path across the forest floor with the stealth of a jaguar and swing through the trees like a spider monkey. Discover hidden creatures with the hover bike.
Your North American Neighborhood
+
Use the Wild Kratts iconic miniaturizer to shrink down and see what life is like up close for the animals under our feet. See like a butterfly, launch prey at a bullfrog, and explore a symphony of creature sounds.
A special spot for our youngest creature adventurers. Discover baby animals around the world, delight in cause-and-effect and sensory interactives, and read animal-themed books together.
Slide on an ice shelf like a penguin, pick a penguin chick's unique call out of a crowd, and test your balance on rocking ice floes. Peer through the periscope into the frigid waters just below the ice and marvel at the infinite world of ice and water teeming with life.
Sponsors
We're so thankful to our generous sponsors, who help make visiting exhibits like this one possible.
Wild Kratts®: Creature Power!® was created by Minnesota Children's Museum in partnership with Kratt Brothers Company Ltd.


Wild Kratts® © 2022 Kratt Brothers Company Ltd. / 9 Story Media Group Inc. Wild Kratts® and Creature Power ® are owned by Kratt Brothers Company Ltd.