Run! Jump! Fly! Adventures in Action™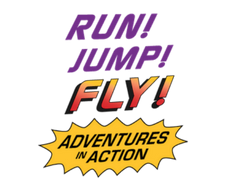 Jan 19, 2019 - May 27, 2019
Run! Jump! Fly! Adventures in Action™
Jump into our newest visiting exhibit! Come explore activities such as kung fu, surfing, snowboarding, yoga and horizontal climbing! In each activity station, you get to build strength, coordination, balance and endurance. Test your ability to become the next "action star" in the Training Center!
Visitors enter a clearing in a bamboo forest and begin the kung fu session with a bow to show the three principles of kung fu: strength, peace and respect. Push a button to trigger a sequence of lightbox images that guide the young Tou Dai (Student) from still poses into a flow of action.
Complete with four different trails: the Toddler Trail, Beginners' Bend, Rugged Ridge and the Extreme Expanse, visitors of varying skill and ability levels can successfully traverse the trails to safely explore a cave holding a hidden treasure. Hand and footholds guide the visitors across the horizontal
walls.
Visitors merge their imagination with physical activity when they strap on a bike helmet and climb on one of the exhibit's flycycles. These stationary bikes with wings or propellers each face a cloud-shaped panel. For every few rotations of the wheels, a star lights up in the sky.
The action star training center provides visitors with challenges of balance, strength, coordination and cardiovascular and muscular endurance through simple activities. Complete with a yoga station, strength center, and dance club, guests are sure to break a sweat, have some fun, and make some memories!
Surfing and Snowboarding
+
Don Hawaiian shirts or down-style vests, choose one of four balance boards and see how long they can stay on for the ride. A motion sensor triggers a two-minute video sequence that challenges guests a trip down a mountain or catching that perfect wave. The activity challenges and builds the riders' balance.
This area offers the youngest visitors a separate place to experiment with physical activity. With adventure-theme flair, the Toddler Pyramid features toddler-sized steps, a climbing net and a slide!
Sponsors
We're so thankful to our generous sponsors, who help make visiting exhibits like this one possible. We are thankful for the ability to be able to bring new and exciting exhibits to the community of Atlanta.