6 Things You Can Do to Affirm Gender-Expansive Kids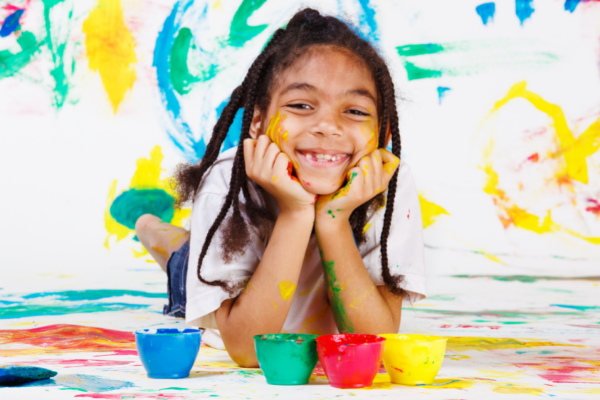 It's Pride Month, y'all! Every year in June, folks in the LBGTQ+ community (and their allies!) gather to celebrate the freedom to be themselves and remember those who worked` for everyone to be treated equally no matter their gender or who they love.
At CMA we believe every child deserves to feel safe, welcomed, and valued. The American Academy of Pediatrics shares that gender-expansive kids, "like all children, can grow into happy and healthy adults when supported and loved throughout their development". Sadly prejudice, misunderstanding, and a lack of support have resulted in higher rates of mental health struggles among these children. (The term gender-expansive refers to any child who does not identify with the gender they were assigned at birth.)
Fortunately, we can all help create loving, affirming environments for our gender-expansive kids! To learn more we spoke with educator and advocate Ann Miller about steps we can take to support the trans and gender-expansive kids in our community.
Ann Miller, the mother of a gay transgender son and president of PFLAG John's Creek, educates and advocates statewide on the often misunderstood topic of LGBTQIA+ children and teens. In her Town Square conversation with CMA, Ann clarified the differences between gender expression, gender identity, and romantic expression, shared best practices for affirming gender-expansive children, and provided resources for families of LGBTQIA+ kids.
You can watch the entire conversation in the video below. Or keep scrolling to learn six things you can do to affirm gender-expansive children!
Use Their Correct Pronouns
"Correct pronoun use is a key factor against suicide risk," says Ann. Changing a habit can be difficult but using the pronouns that align with a child's gender identity is one big way to show you have made following their lead a priority. Ann suggests practicing in your head to get the hang of the change more quickly.
Allow Expression to Align with Identity
Similarly, encouraging a child to wear whatever they feel best and most comfortable in plays a key role in creating an affirming environment.
Embrace Gender Neutral Language
Ann also suggests embracing gender-neutral language in general rather than assuming someone's gender identity. "Try 'that kid is going down the slide' rather than 'that boy or girl'". The same goes for adults. Ann encourages referring to adult family members as caretakers rather than mom or dad as a way to be both gender-inclusive and inclusive of many diverse kinds of families.
Remember that Toys are Gender Neutral
Toys are for everyone! Avoid referring to "boy" or "girl" toys and instead, affirm that kids of all genders can find all sorts of toys and play to be fun and enriching. Ann reminds adults not to over-react or impose meaning onto any particular type of play. Lots of children enjoy dress-up, for example, not only little girls. Provide a wide variety of toys for children to play with.
Be Open & Matter of Fact
When a child has questions or makes observations about gender or sexuality be open, calm, and matter of fact. Acknowledge that there are many gender identities and that a child's gender identity may change over time. Explain gender identity and attraction in simple language. Refer to the Genderbread Person if you need some help!
Seek Support
There are plenty of resources! Keep learning about how to affirm and best support gender-expansive folks from the resources listed below.