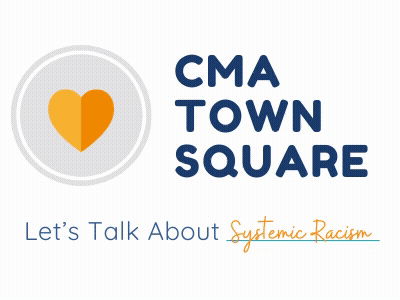 CMA Town Square: Let's Talk About . . . is a virtual series designed for families, educators, and the community to learn about and discuss issues important to our community as well as resources that can help those families have hard conversations.
Every talk included in this series aims to create a more diverse, inclusive, and equitable society for all.
Each session will be 30 minutes long, with 20 minutes of interview time and up to 10 minutes of audience Q & A.
Series Schedule
All series talks will be broadcast via Facebook Live as well as Zoom. Recordings of each talk will be added to our Youtube channel and blog. The series is free and open to the public. Reservations are not required.
Thursday, Sept 10 11:30 AM
Dr. Dooley is the Associate Superintendent for Instruction and Learning at the Georgia Department of Education and a Full Professor at Georgia State University. Her research investigates digital literacies, emergent comprehension, literacy instruction and testing in elementary grades, and teacher development.
She will talk about children and screen time, and becoming a digital citizen as we are engaged across the state in virtual instruction.  
Thursday, September 17, 10 AM
Learn about how to get the most out of virtual learning for elementary students from Dr. Meghan Welch, Program Specialist at the Georgia Department of Education. Dr. Welch has a Ph.D. in Early Childhood and Elementary Education from Georgia State University.  
Dr. Welch will address the needs of early elementary students as regards virtual learning, both from her professional perspective, but also her perspective as the mother of 4. She will also explore the concerns around the digital divide, and some of the ways that the StateDOE is working to build equity around this issue.
Thursday, September 24, 10 AM
Bridget Ratajczak, Child and Developmental Supervisor at the Georgia Department of Early Care and Learning: Bright from the Start (DECAL), shares ideas on how to navigate early learning in this time of COVID.
The conversation will explore children's developmental stages, the social-emotional needs of children and families related to learning, and the need to give everyone "grace", knowing that there will be good and bad days for learning. Ms. Ratajczak will also provide information on where to find equitable access to digital resources for learning.
Speaker Bios
More speakers will continually be added as our series grows!
Deputy Superintendent for Teaching and Learning at the Georgia Department of Education and a Full Professor of Education at Georgia State University.
Program Specialist focusing on literacy and digital integration in the Curriculum and Instruction division at the Georgia Department of Education (GaDOE). 
Bridget Ratajczk, M. A.
+
Child and Family Development Supervisor at Bright from the Start: Georgia Department of Early Care and Learning
Full bio coming soon.
Nominate a Speaker!
The CMA Town Square Series welcomes local and national speakers to share their experiences and thoughts with the metro Atlanta community. Participation in the CMA Town Square Series is on a voluntary basis and we as a community are very thankful to all our speakers that have given their time so graciously.
If you would like to be considered or would like to nominate someone as a speaker, please fill out the form by clicking the button below.
Series Videos
All recordings of the series talks will be available below. Check out our Youtube channel and subscribe!
All gifts are tax-deductible to the fullest extent allowed by law. The Museum is a 501(c)(3) tax-exempt & charitable organization. Our tax-exempt number is 58-1785484.