The Pigeon Comes to Atlanta! A Mo Willems Exhibit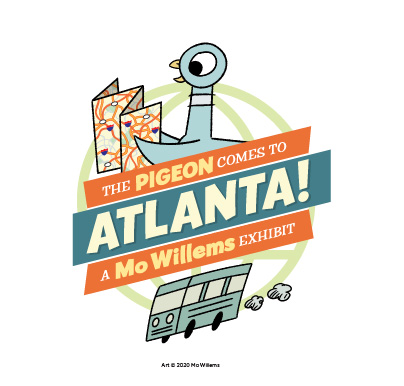 January 16, 2021 - May 9, 2021
The Museum's newest featured exhibit, invites you to visit the whimsical world of beloved children's book author Mo Willems and his cast of lovable characters, including best friend duo Elephant Gerald and Piggie, faithful companion Knuffle Bunny, and The Pigeon, the wily city bird best known for his antics in Don't Let the Pigeon Drive the Bus!
The Pigeon Comes to Atlanta! A Mo Willems Exhibit was co-organized by Children's Museum of Pittsburgh and The Eric Carle Museum of Picture Book Art.
Adults will NOT be granted access to the Museum floor without the presence of a child.
Exhibit Experiences
Have a hilarious conversation in the voices of Elephant Gerald and Piggie at a double-sided phone booth.
Make Elephant and Piggie dance with old-time animation.
Put on a wearable bus and take a drive around the exhibit.
Spin the laundromat washing machine and uncover Knuffle Bunny and other surprises!
Dress up Naked Mole Rat and send him down the runway for a one-of-a-kind fashion show.
Stack lightweight blocks to create their own terrible monster or funny friend.
Launch foam hot dogs at The Pigeon and play the plinko game to give the Duckling a cookie.
Try out art techniques that Mo uses for his own books.
Sponsors
We're so thankful to our generous sponsors, who help make visiting exhibits like this one possible. We are thankful for the ability to be able to bring new and exciting exhibits to the community of Atlanta.



All gifts are tax-deductible to the fullest extent allowed by law. The Museum is a 501(c)(3) tax-exempt & charitable organization. Our tax-exempt number is 58-1785484.