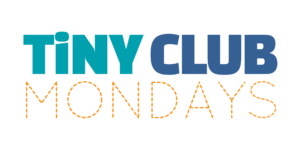 Choose between TiNY Science Club and TiNY Artist Club and enjoy a 30-minute class designed especially for kids ages 2 – 5 and their caregivers. Or, check out TiNY Builder Club, a drop-in class held from 10:30 AM – 12:30 PM.
Each club offers hands-on activities, professional instruction, and the chance to create and learn something new!
TiNY Science & Artist programs take place at 10:30 AM, except on Federal Holidays.*
TiNY Builder program occurs from 10:30 AM to 12:30 PM
Guests are required to sign up for a class slot for TiNY Science & Artist. Sign up sheets available inside the Museum beginning at 10:00 AM Monday morning.
Space is limited, admittance is on a first-come-first-served basis.
All TiNY CLUBS are included with the cost of admission; Members are free.
*Subject to change based on school breaks or instructor availability.