"Tuesday" is coming to the Children's Museum of Atlanta this Friday! Don't know who Tuesday is? He is the golden retriever featured in the new nonfiction children's book "Tuesday Tucks Me In: The Loyal Bond between a Soldier and His Service Dog" by Luis Carlos Montalván. Montalván is not only a New York Times best-selling author, but a speaker and an advocate as well. He spent seventeen years in the military and received numerous awards for his service. Suffering from post-traumatic stress disorder, as well as other physical wounds, Montalván met Tuesday, a service dog trained to assist the disabled, who changed his life. He said "Tuesday brightens my days and calms my nights."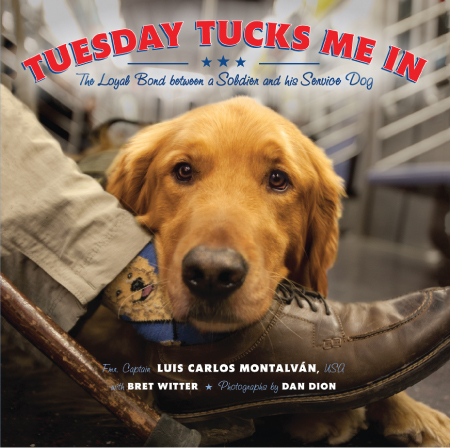 Often referred to as a "tail-wagging ambassador," Tuesday narrates this children's book, which follows a day in his life with Montalván. Training since he was three days old, Tuesday can do almost 150 commands, including turning on lights, helping Montalván put on his socks and shoes, and reminding Montalván to take his medicine. "It's not just his understanding of me, although that's part of it. With a word, Tuesday can guide me to dozens of places. He can be my surrogate or a mirror to my heart," says Montalván. One of the amazing things that Tuesday does is pay attention to Montalván's heartbeat, so that he can prevent panic attacks from happening!
Recommended for 4-8 year olds, the book is illustrated with full page photographs of Tuesday and his best friend. Written to be understood by children both young and old, the story is both humorous and realistic about the difficulties Montalván faces. By the end of the story, you'll understand what Montalván means when he talks about him and Tuesday and says, "We aren't just service dog and master, Tuesday and I are also best friends. Kindred souls, Brothers."
Come to the Museum on Friday, September 19 and with your general admission ticket you will be able to attend a special story time with Montalván and Tuesday at 11 am. You can visit www.tuesdaytucks.com to learn more about this amazing pair and download activity sheets for the kiddos to complete.