Red, White and Blueberry Recipes!
In honor of the Fourth of July, this week we challenged ourselves to create a full meal based on three different colors: Red, White and Blue. It turns out that the internet is chock-full of patriotic-themed recipes. Because we have a dedicated staff (who like to eat!) we whittled down the sixty-gajillion available color-themed ideas we found into a somewhat healthy and nutritious three-course meal with lots of blueberries. Well, the dessert's not the healthiest thing we could come up with, but it sounds delicious!
Let's start with a "Patriotic Salad" with quinoa and berries, as found at Yummy Mummy Kitchen.
5 ounces arugula or other salad greens
3 cups cooked, cooled quinoa
1.5 cups blueberries
1.5 cups raspberries
Sliced watermelon cut into stars with a cookie cutter
favorite salad dressing, served on the side
On the bottom of a medium trifle dish or clear salad bowl, arrange one third of the greens. Top with half the quinoa, all but 1/4 cup blueberries, the remaining quinoa, another third greens, all but 1/4 cup raspberries, and top with the remaining greens. Arrange the remaining 1/2 cup berries over the top. If using watermelon stars, tuck into the sides and arrange on top of the salad. Make this salad up to 5 hours in advance, cover with plastic wrap, and refrigerate. Serve dressing on the side.
For the main course, let's continue with blueberries since they are in season right now, and enjoy a Chicken and Blueberry Pasta Salad, from Eating Well:
1 pound boneless, skinless chicken breast, trimmed of fat
8 ounces whole-wheat fusilli or radiatore
3 tablespoons extra-virgin olive oil
1 large shallot, thinly sliced
1/3 cup reduced-sodium chicken broth
1/3 cup crumbled feta cheese
3 tablespoons lime juice
1 cup fresh blueberries
1 tablespoon chopped fresh thyme
1 teaspoon freshly grated lime zest
1/4 teaspoon salt
Place chicken in a skillet or saucepan and add enough water to cover; bring to a boil. Cover, reduce heat to low and simmer gently until cooked through and no longer pink in the middle, 10 to 12 minutes. Transfer the chicken to a cutting board to cool. Shred into bite-size strips.
Bring a large pot of water to a boil. Cook pasta until just tender, about 9 minutes or according to package directions. Drain. Place in a large bowl.
Meanwhile, place oil and shallot in a small skillet and cook over medium-low heat, stirring occasionally, until softened and just beginning to brown, 2 to 5 minutes. Add broth, feta and lime juice and cook, stirring occasionally, until the feta begins to melt, 1 to 2 minutes.
Add the chicken to the bowl with the pasta. Add the dressing, blueberries, thyme, lime zest and salt and toss until combined.
Finally, let's have a Red, White and Blue dessert, from the blog of Taste of Home magazine.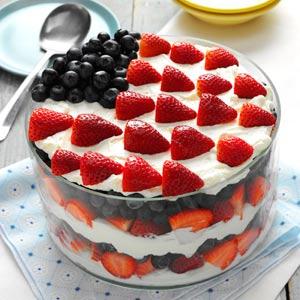 2 packages (8 ounces each) cream cheese, softened
1/2 cup sugar
1/2 teaspoon vanilla extract
1/2 teaspoon almond extract
2 cups heavy whipping cream, whipped
2 quarts strawberries, halved, divided
2 quarts blueberries, divided
In a large bowl, beat cream cheese, sugar and extracts until fluffy. Fold in whipped cream. Place a third of the mixture in a 4-qt. bowl. Reserve 20 strawberry halves and 1/2 cup blueberries for garnish.
Layer half of the remaining strawberries and blueberries over cream mixture. Top with another third of the cream mixture and the remaining berries. Spread the remaining cream mixture on top. Use the reserved strawberries and blueberries to make a "flag" on top.
You'll have plenty left over after this one, but on the other hand, you could certainly adapt this as a single-layer recipe for your family. If you're planning to take a dessert to a July 4th party, on the other hand, this looks like a treat fit for all the founding fathers!