One of my favorite Museum memories came five years ago, when Atlanta's mayor, Kasim Reed, came to participate in our Read Across America programming and share a book with some children. History has forgotten which book was handed to the mayor to read, but he looked at it with a raised eyebrow and said "I sure do like Curious George. Do you have any Curious George books?" Well, by chance, we did. A very popular traveling exhibit, Curious George: Let's Get Curious! had left our Morph Gallery just a few weeks previously, and we still had one copy of a very nice hardcover gift book, which reprinted all of the original stories by Margret and Hans Rey in a single volume, in the Museum Store. I raced from the floor to the shop and back in record time with the last Curious George book in the Museum, and the large group of children really enjoyed Mayor Reed sharing the story with them.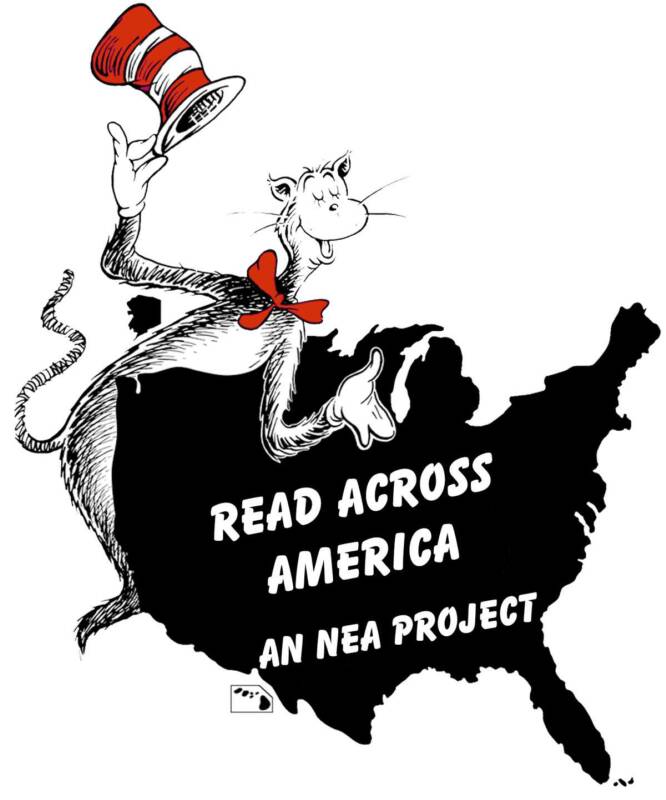 Read Across America is a project of the National Education Association, and it's typically associated not with Curious George, but with The Cat in the Hat. That's because the event is held around the birthday of the Cat's creator, Dr. Seuss, and usually features volunteers and fans wearing the signature red-and-white striped hat, and often appearances by the Cat and a couple of his sidekicks Thing 1 and Thing 2.
The initiative began in 1997, and, according to the NEA, "this year-round program focuses on motivating children and teens to read through events, partnerships, and reading resources." Hundreds of schools nationwide participate in the largest celebration of reading in the country.  It's a pep rally for reading, if you will. Getting children excited about reading is a hugely important part of student achievement and also in creating lifelong readers. Children who are motivated and spend more time reading do better in school.
It's a lot more than just getting your children ready for school and more academic success, though. The blog Early Moments offers several reasons why reading with your children is important. Here's our favorite:
"As your child grows older, he'll be on the move—playing, running, and constantly exploring his environment. Snuggling up with a book lets the two of you slow down and recaptures that sweet, cuddly time you enjoyed when he was a baby. Instead of being seen as a chore or a task, reading will become a nurturing activity that will bring the two of you closer together."
Learning to read can sometimes be a little tough for children! Sometimes, they could use a reminder that reading isn't a chore at all, it's completely wonderful and exciting. We love the pep rally feel of the day, and we've seen hundreds of kids leave our events inspired and enthusiastic about books. We'll be celebrating with events on the morning of Tuesday, March 3rd and hope that you will bring your young readers to join us!