Giving children time to explore
Earlier this week, in The New York Times, David Kohn wrote about children and learning, and although he didn't use the exact phrase that we do here, "The power of play," it still resonates throughout his story. Children learn through hands-on exploration. They need to set their own pace, and they need to be given constant opportunities to use their imagination, create rules and boundaries, and interact with other children.
From Kohn's story, "Play is often perceived as immature behavior that doesn't achieve anything," says David Whitebread, a psychologist at Cambridge University who has studied the topic for decades. "But it's essential to their development. They need to learn to persevere, to control attention, to control emotions. Kids learn these things through playing." You can't teach these things, and you certainly can't test them. Children will observe and respond and learn at different levels, but even the silliest-looking play has so much more going on than can be quantified, objectified, and compartmentalized.
Kristin Tillotson, writing in The Minneapolis Star-Tribune, uses an analogy familiar to anybody who's read the Sunday funnies: when kids explore, it looks like one of the characters in Bil Keane's The Family Circus, taking off on their meandering, "serpentine" paths, connecting points A and B by way of every other possible letter. We see this a lot with our regular guests. Sometimes, they arrive and the child has a very specific idea about which area of our Museum they'd like to explore and go straight there, but just as often, we'll see a child absolutely determined to climb in our treehouse, but only after winding around through every other place they can find and writing their name on our paint wall first.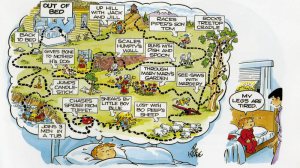 It's pretty amusing watching children do this, but it's also perfectly natural behavior. Tillotson calls this "informal meandering" an organic way to learn, and Marjorie Bequette, director of evaluation and research at the Science Museum of Minnesota, agrees, pointing out that children respond to being in charge of the adventure.
Even looking around and observing things in a space, whether it's one you are familiar with or one that's brand new, has so much value. In her story, Tillotson mentions that some New York police officers receive training in observation at the Museum of Modern Art. I read some more about that in a 2009 story at Smithsonian, and learned that there is a program where veteran officers get an early morning class in observation. It's evidence for Tillotson's theory that museums really are mind-expanding, and that, whether you're an adult or a child, the experience at any museum is one where the observer is continually learning.
When you next visit us, once you catch up with your child after their "serpentine" tour of the place, try spending a few minutes asking questions about what they have explored and observed. What does the Moon Sand feel like? How many lights do they see? What do they notice about colors and shapes? Perhaps they'll have some questions about what you have seen and explored as well, so keep your eyes and ears open as you play with your children… you may just learn a thing or two yourself!
Sources: NY Times | Star Tribune | Smithsonian Magazine