Farmers Markets Around Atlanta
Have we had enough of these April showers yet? If you can see the billboards through all the rain, you may have noticed that some of the region's large farms have begun strawberry picking. Mercier Orchards in Blue Ridge and Washington Farms near Watkinsville are getting their crops ready, which is a good sign that the various farmers markets around Atlanta are up and running, with fresh fruits and vegetables, salsas, juices, meats, honey, and all sorts of other local vendors selling directly to customers.
My family loves shopping at the Marietta Square Farmers Market. It is open Saturday and Sunday mornings and brings out vendors selling the most wonderful milk, cheeses, jams, and veggies along with the omnipresent King of Pops cart and a local girl who pays for her horse's boarding fees by selling the best limeade you've ever had. Marietta Square Farmer's Market is a favorite with my family, but there are several other established farmers markets in the city. I asked some of our Children's Museum of Atlanta staff which ones they like to visit.
The venerable Your Dekalb Farmers Market was many people's favorite. Hajar Lateef, from our Visitor's Service staff, told me that she loves going to get all the vegetables and fruits from different parts of the country, and that the selection is unbeatable. "It's like a candy store!" she exclaimed. Development assistant Alicia Robertson is also a big fan, and particularly enjoys visiting one particular vendor among the ones who sell prepared foods at the market. She loves buying fried garlic plantains from one of the sellers.
Toy Expert Lucreacia Henderson only just started going to Your Dekalb Farmers Market at the beginning of the year. She says "It's the one place I can find all the natural and organic stuff that I'm looking for in one place," singling out a particular coconut oil as a favorite. But it's not all herbs and oils for her, because one vendor makes a particularly amazing peanut butter cookie. "You can see the peanuts in it! I've brought home his whole stock!"
While Your Dekalb Farmers Market is the largest in the city many  of our employees visit the smaller ones in their own neighborhoods. Courtney Strickland, also from our Visitor's Service team, enjoys the "quaint" Sandy Springs Farmer's Market along with what appears to be all of her neighbors. "If you're in Sandy Springs, you go," she told me. Apart from the vegetable sellers, she's particularly fond of buying fresh, homemade bread and honey.
On the east side of town, Michelle Cherubim enjoys the Stone Mountain Farmer's Market, and is glad that she lives nearby, because she believes that it has the most variety of any in the city, with foods from many different countries. Daniel Lomax, our newest Imaginator, is particularly fond of the venerable Sweet Auburn Curb Market, which first opened almost a hundred years ago. As writer Christiane Lauterbach explained in a story for Atlanta Magazine last year, manager Pam Joiner reinvigorated Sweet Auburn in 2005 by bringing in small and eclectic restaurants to draw crowds to the produce and the meats. Daniel tells me that he can't find fresher fish in Atlanta than what's available at Sweet Auburn.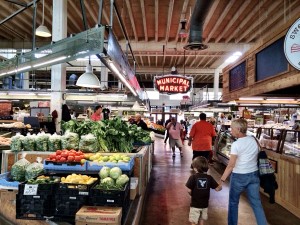 One thing's definitely certain: farmer's markets are hugely popular. So, make sure you get to your local market early enough to beat the crowds and grab some great deals!
More information about Atlanta-area farmer's markets: AJC